tBT Journal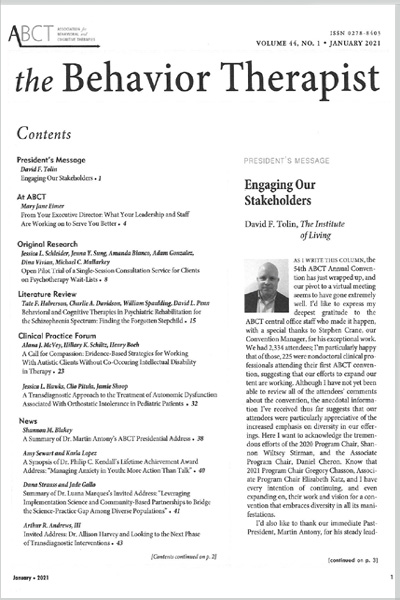 An ABCT tradition, the Behavior Therapist has stimulated readers for over 40 years with its high-quality, thought-provoking articles on cognitive and behavioral practice, theory, and research, including humor, reviews, training program overviews, clinical dialogues, and news of the field. A publication devoted to work by seasoned clinicians, researchers, and students alike, often featuring theoretical debates among pioneers of the field, tBT is an excellent educational tool and archive of the field's evolution. Received by all ABCT members (8 times a year), the Behavior Therapist is ABCT's most popular publication.
Editor: Richard LeBeau, Ph.D.
---
tBT Journals (2004)
2004 Editions of the Behavior Therapist Journal.
ABCT, December 2004
Index
| | | | | |
| --- | --- | --- | --- | --- |
| Last Name | First Name | Topic | Title | Page |
| Roman | George | From the Editor | So Long and Thanks for All the Help | 169 |
| Sass | Daniel A. | Science Forum | Defining the Independent Variables and Ensuring Treatment Integrity: A Comparison Across Journals of Different Theoretical Orientations | 172 |
| Twohig | Michael P. | | | |
| Davies | E. Hobart | | | |
| Schwebel | David C. | Open Forum | Recent Trends in the Research-Oriented Clinical Psychology Academic Job Market | 174 |
| Karver | Marc S. | | | |
| Parks | George A. | Book Review | Transcendental Meditation in Criminal Rehabilitation and Crime Prevention (C.N Alexander, K.G. Walton, D. Orme-Johnson, R.S. Goodman, & N.J. Pallone, Eds.) | 179 |
| Marlatt | G. Alan | | | |
| | | Classifieds | | 182 |
ABCT, October 2004
Index
| | | | | |
| --- | --- | --- | --- | --- |
| Last Name | First Name | Topic | Title | Page |
| Lau | Angela W. | Professional Development of the Cognitive-Behavior Therapist: Addressing Challenges Faced by Psychologists in the Early Stages of Their Careers | Introduction | 137 |
| Lejuez | C.W. | | Developing Your Intellectual Wheelhouse: A Guide for Young Faculty in a Psychology Department | 138 |
| Powers | David | | Jobs, Life and Tenure at a "Teaching College" | 144 |
| Iwamasa | Gayle Y. | | Life is Short: Maximizing Your Education, Interests and Skills | 147 |
| McNair | Lily D. | | Nontraditional and Unexpected Paths to Success in Academia: Maximizing Options | 150 |
| Lau | Angela | | Thinking Outside the Box: How to Find Professional Opportunities Beyond the Ivory Tower | 153 |
| Padesky | Christine A. | | The Road Less Traveled: Scientist-Practitioner-Entrepreneur | 156 |
| Rego | Simon A. | At AABT | Results of the Professional Issues Committee Survey | 161 |
| Winterowd | Carrie | | Run for AABT President-Elect or Representative-at-Large | 162 |
| DiDomenico | Doreen M. | | Report From the Clinical Directory/Referral Issues Committee | 163 |
| | | | Welcome, New Members | 164 |
| | | Classifieds | | 167 |
ABCT, September 2004
Index
| | | | | |
| --- | --- | --- | --- | --- |
| Last Name | First Name | Topic | Title | Page |
| Resick | Patricia | President's Message | Strategic Plan and Special Election | 113 |
| Malouff | John M. | Clinical Forum | Strategies for Increasing Client Completion of Treatment Assignments | 118 |
| Schutte | Nicola S. | | | |
| McKinney | Robin | | Schizophrenia: Some Recent Advances and Implications for Behavioral Intervention | 122 |
| Fiedler | Scott | | | |
| King | Lynda A. | Open Forum | Conference on Innovations in Trauma Research Methods (CITRM): November 17-18, 2004, New Orleans | 126 |
| King | Daniel W. | | | |
| Sonis | Jeffrey | | | |
| Triffleman | Elisa | | | |
| D'Alessandro | James | Book Review | Cognitive Approaches to Obsessions and Compulsions: Theory, Assessment and Treatment (Edited by R.O. Frost & G. Steketee) | 127 |
| Banister | Benjamin | | | |
| Tolin | David F. | | | |
| Monson | Candice M. | Letter to the Editor | Infidelity as a Cause of PTSD: "Much Overlooked" or Over diagnosed? A Response to Dattilio (2004) | 129 |
| Stevens | Susan P. | | | |
| Schnurr | Paula P. | | | |
| Silverthorne | Persephanie | Convention 2004 | AABT in the Big Easy, Again | 131 |
| | | | Welcome to New Orleans | 133 |
| | | Classifieds | | 134 |
ABCT, July 2004
Index
| | | | | |
| --- | --- | --- | --- | --- |
| Last Name | First Name | Topic | Title | Page |
| Caro | Isabel | International Scene | The Way We Were, the Way We Are: Cultural Evolution of Cognitive Therapy | 89 |
| Rego | Simon A. | At AABT | Update from the Professional Issues Committee | 98 |
| Springer | Craig | Research-Practice Link | Measuring Adherence in Behavior Therapy: Opportunities for Practice and Research | 99 |
| Reddy | Linda | | | |
| Sass | Daniel A. | Science Forum | Toward the Dissemination and Acceptance of Behavioral Interventions: Reporting Sample Characteristics | 101 |
| Twohig | Michael P. | | | |
| Davies | W.Hobart | | | |
| | | 20th Annual Bookselling Catalog | | 103 |
| | | Classifieds | | 110 |
ABCT, June 2004
Index
| | | | | |
| --- | --- | --- | --- | --- |
| Last Name | First Name | Topic | Title | Page |
| Resick | Patricia A. | President's Message | The Coalition to Protect Research | 69 |
| Malouff | John M. | Research-Training Link | Undergraduates Can Learn About Behavior Therapy by Using It to Help Others | 71 |
| Gorbis | Eda | Clinical Forum | Crooked Mirrors: The Externalization of Self-Image in Body Dysmorphic Disorder | 74 |
| Dattilio | Frank M. | Open Forum | Extramarital Affairs: The Much Overlooked PTSD | 76 |
| VanDeusen | Karen M. | Research-Practice Link | Bilateral Stimulation in EMDR: A Replicated Single-Subject Component Analysis | 79 |
| | | Classifieds | | 87 |
ABCT, March 2004
Index
| | | | | |
| --- | --- | --- | --- | --- |
| Last Name | First Name | Topic | Title | Page |
| Freiheit | Stacy R. | Dissemination | Cognitive-Behavioral Therapy for Anxiety: Is Dissemination Working? | 25 |
| Vye | Christopher | | | |
| Swan | Rebecca | | | |
| Cady | Mary | | | |
| Murphy | Ronald T. | Research-Practice Link | Readiness to Change PTSD Symptoms and Other Problems Among Veterans Participating in a Motivation Enhancement Group | 33 |
| Cameron | Rebecca P. | | | |
| Sharp | Lois | | | |
| Ramirez | Gilbert | | | |
| Rosen | Craig S. | | | |
| Drescher | Kent | | | |
| Gusman | Fred | | | |
| Mohlman | Jan | | Attention Training as an Intervention for Anxiety: Review and Rationale | 37 |
| | | Classifieds | | 42 |
ABCT, February 2004
Index
| | | | | |
| --- | --- | --- | --- | --- |
| Last Name | First Name | Topic | Title | Page |
| Freiheit | Stacy R. | Dissemination | Cognitive-Behavioral Therapy for Anxiety: Is Dissemination Working? | 25 |
| Vye | Christopher | | | |
| Swan | Rebecca | | | |
| Cady | Mary | | | |
| Murphy | Ronald T. | Research-Practice Link | Readiness to Change PTSD Symptoms and Other Problems Among Veterans Participating in a Motivation Enhancement Group | 33 |
| Cameron | Rebecca P. | | | |
| Sharp | Lois | | | |
| Ramirez | Gilbert | | | |
| Rosen | Craig S. | | | |
| Drescher | Kent | | | |
| Gusman | Fred | | | |
| Mohlman | Jan | | Attention Training as an Intervention for Anxiety: Review and Rationale | 37 |
| | | Classifieds | | 42 |
ABCT, January 2004
Index
| | | | | |
| --- | --- | --- | --- | --- |
| Last Name | First Name | Topic | Title | Page |
| Roman | George | From the Editor | Thoughts About tBT | 1 |
| Resick | Patricia A. | President's Message | Reflections on the Annual Meeting and the Year to Come | 3 |
| Hupp | Stephen D.A. | Clinical Forum | Making Diagnostic Labels Reflective of Environmental Influences: A Rose by Any Other Name May Not Be So Thorny | 4 |
| Adams | Stacey L. | Phobia | | |
| Wenzel | Amy | Research-Practice Link | Psychometric Properties of the Multidimensional Blood/Inquiry Phobia Inventory | 10 |
| Sawchuk | Craig N. | | | |
| Kenela | Tracy | Student Forum | Novel Tobacco Products and Herbal Cigarettes Implications for Prevention | 15 |
| Hunt | Melissa | Dissemination | Report of the Committee on Academic Training: Medical Specialty Training on Panic Disorder | 18 |
| Gibbons | Lauren | | | |
| Paraison | Harnel | | | |
| Rabik | Cristin | | | |
| Ley | Ronald | Lighter Side | The CEO Theory of Catastrophic Misinterpretations and Panic: A Cognitive Executive - Control Economic - Organizational Model | 21 |
| King | Lynda A. | Open Forum | New Conference on Innovations in Trauma Research Methods (CITRM) Invites Program Input | 22 |
| King | Daniel W. | | | |
| Lopez-Williams | Andy | Letter to the Editor | Moving Poster Dissemination Into the 21st Century | 23 |
| | | Classifieds | | 23 |